Update Office Space to Retain and Attract Tenants
Architectural Films & Finishes for Office Spaces
---
---
---

---
---
Perfect for Tenant Changeover
Minimal Disruption
Quick & Cost Effective
---
The Challenges of Updating Office Spaces
The commercial real estate market is competitive. Attracting new tenants while retaining existing ones can be a challenge. A building's aesthetics affect tenant leasing decisions. After all, who wants to work in an uninviting, dated, or worn environment when studies show that pleasant surroundings boost employee morale?
Keeping commercial space current with design trends can be challenging. Traditional construction for modernization is costly and disruptive to building operations and tenants. So how do you stay ahead of the design curve when faced with obvious challenges?
---
High-Quality Materials for Office Interior Design
Belbien Architectural Finishes is a line of value-engineered, sustainable, and cleanable finishes that are a great alternative to traditional construction methods. You can modernize and transform a space's walls, ceilings, and everything in between at a fraction of the price, and in a fraction of the time, of traditional construction.
---
If you're looking to create privacy in glass offices or conference rooms, Nuovo Glass Finishes allow you to simulate the appearance of etched or sandblasted glass without the associated limitations of cost, time, and maintenance.
Benefits of Architectural Films & Finishes in Office Spaces
---
Using what's already in place saves money on multiple fronts, especially when you consider the environmental and social costs of replacement over recycling. For example, resurfacing a door with Belbien as compared to door replacement can save up to 60%!
---
---
---
There is no need to landfill those old doors, cabinets, glass, or furniture. Renewing existing surfaces with Belbien Architectural Finishes and Nuovo Glass Finishes allows you to give thoseold and tired fixtures a new look.
---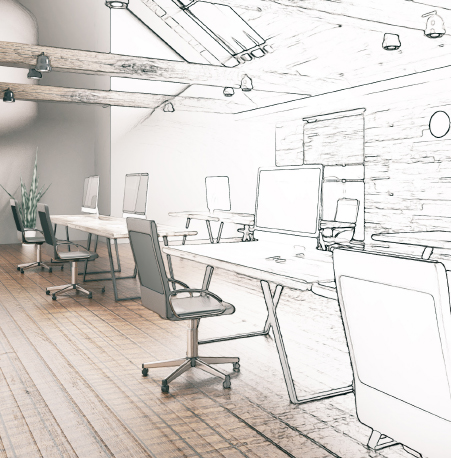 Attention Architecture & Design Community
---
Need a sample? Need a specification? Ready to specify? We're here to help.
---
All we ask is that you
write our name and contact information
on the drawings. This way, we can help ensure that your vision for the project is maintained and that the installation is completed by a certified installer to receive any applicable warranty.